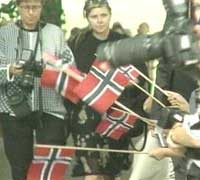 Serving as Host Broadcaster of the event is the licence fee financed public broadcaster NRK, who will produce the live international signal in cooperation with commercial public broadcaster TV2. 7 OB vans, 70 cameras and a staff of 280 people will be employed in the production.
The Host Broadcaster production will include the Crown Prince and Ms Tjessem Høiby's press conference on Wednesday, 23 August, recordings of prominent guests arriving the airport as from Thursday 24 August, pool recordings before the couple's private party for their friends on Thursday, live coverage of the official dinner hosted by the Norwegian government on Friday, recordings of the sightseeing at Henie Onstad Arts centre on Saturday and approx. eight hours of live coverage of the wedding programme on Saturday. For further details, please refer to the International Signal Schedule.
Unilateral operations
Visiting radio and TV companies will be offered production and transmission facilities in the downtown area and at the NRK premises. Such services include commentary positions, dedicated camera positions and occasional booking facilities such as standup positions (live/taped), edit suites and videotape playout.
Contact persons
For further information about Host Broadcaster operations, please contact:
Executive Producer: Odd Kaldefoss mailto:odd.kaldefoss@nrk.no
Telephone +47 23 04 77 51 –
Cellular telephone +47 90 54 34 40
Production Manager:
Jan-Kristian Schriwer
mailto:jan-kristian.schriwer@nrk.no
Telephone 23 04 76 94
Cellular telephone +47 91 82 00 32
Technical Manager:
Arne Peder Skjønsberg
mailto:arne.peder.skjonsberg@nrk.no
Telephone +47 23 04 77 68
Cellular telephone +47 90 66 58 17
Programme Coordinator:
Anne Baggethun
mailto:anne.baggethun@nrk.no
Telephone +47 23 04 87 80
Cellular telephone +47 91 85 28 49
Information Manager:
Helene Amlie
mailto:helene.amlie@nrk.no
Telephone +47 23 04 77 51
Cellular telephone +47 95 10 02 99
Booking Manager:
Marit Moi
Telephone +47 23 04 96 21
Cellular telephone +47 95 93 73 47
Radio Coordinator:
Stein Nybakk
mailto:stein.nybakk@nrk.no
Telephone +47 23 04 97 58
Cellular telephone +47 92237061
Norwegian Telecom
Issues concerning VANDA/Audio transmission should be addressed to Norwegian Telecom (Telenor) at the following address:
Helén Nordane mailto:helen.nordane@telenor.com
Telephone +47 22 89 31 63
Cellular telephone: +47 90 61 45 51
Facsimile: +47 22 63 13 66
The Ministry of Foreign Affairs
Inquiries concerning accreditation, accommodation, car rental and other logistic matters should be addressed to the Ministry of Foreign Affairs, department of Information and Press Relations at press@mfa.no
Telephone: +47 22 24 31 41 or +47 22 24 31 49
Facsimile: +47 22 24 27 90
Lenker