B. 25 May 1966 in Leide, Netherlands, and grew up in the Hague. Maiden name: Petra Laurentien Brinkhorst. Second child of Laurens-Jan Brinkhorst and his wife Jantien Heringa. She has one older brother, Marius Eward.
Prince Constantijn and Miss Laurentien were engaged on December 16th, 2000. Their civil marriage on 17 Mai 2001 was followed two days later by the church ceremony.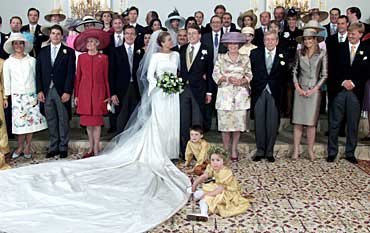 Prince Constantijn and his bride Laurentien Brinckhorst, central, are flanked by their royal guests as they pose in the Palace " Huis Ten Bosch " after their religious marriage in The Hague May 19, 2001.
Education/training
Like Prince Constanijn she went to the Eerste Vrijzinnig Christelijk Lyceum at The Hague, but never graduated there.
She followed her parents to Japan, where she graduated International Baccalaureate from the Lycee Français. Laurentien studied history in Groningen and political science at the University of London, where she finished with a Bachelor of Arts degree in 1989.
Finally she took a Master Degree in Journalism at Berkeley University where she finished in 1991 with a thesis on street prostitution.
Laurentien worked for CNN in Atlanta from 1991 to 1992 and then moved to Brussels, where she and Constantijn grew closer and started dating.
In Brussels Laurentien worked for the Belmont European Policy Centre, Philip Morris and - until her marriage - for the public affairs consultancy Adamson BSMG Worldwide, where she was Vice President.
Since their marriage the couple lives in London, where Princess Laurentien works for the London department of Adamson BSMG.
Leisure interests
Princess Laurentien's favourite sports are tennis, skiing, fitness and sailing. Her other hobbies include reading, travel and photography.