Bløffen
Disse henvendelsene beskriver en kinkig finansiell eller juridisk situasjon, hvor man trenger et kontant beløp for å få utløst en større pengegaranti for eksempel i en sveitsisk bank. Hvis du hjelper til blir du lovet å få det mangedobbelte tilbake.
Millioner slike mailer og brev sendes ut hver uke. Avsenderland og historier varierer, men bak alle ligger selvsagt forretningsidèen om å få et forskudd man deretter stikker av med.
Dette kan du svare
Vår innsender "Georg A. Anker-Hansen" foreslår at man sender følgende svar:
-
Dear Mr./Mrs. (fyll inn),
I write to you to ask for your assistance in a very special case. I have got your name from a friend, and he assured me that you could give the helping hand that I need.
As you might know, my country is in big trouble. Having had socialist governments almost continuously since before WWII, the human rights has been severed and is now unbearable for people from the families that have developed and enrichened our country for centuries. The people of Norway are not free.
The government have restricted the rights to own properties, our rights to run our businesses for the benifit of our people, and given us hard taxes also on wages. It is in fact illegal to decide over your possessions as you want, and this is of course followed by restrictions in freedom of speech and gaining political influence. They have also made it almost impossible to be a landowner and industrialist, as me and mye forefathers have been for ages. Tax prison is not an unknown word in this society, and so is envy, official harassment and threats. Many influental people have already fled to more liberal countries, but some of us have had responsibilities and ties that has kept us in this socialist regime. (For the time being, the regime is socalled christian-conservative, but it follows the same socialist policy as the socialists.)
Being the sole heir of big areas in the rural areas of coastal Norway, I have had much troubles with the government in many ways, and I have to think of my wellbeing and my future. Now I find it`s time for me to say goodbye to this repressing system, and then I need a business partner abroad. This is a deal which has to be done with absolute secrecy, if not, the lives of me and my family will be in great danger.
As mentioned, I own big areas in western Norway. In this area, there are several big farms, some fishery factories, a wharf, a couple of good harbours and a small, private airport. The government has now decided that gas from the North Sea is going to be landed at the corn area of my property (Nyhamna, Gossen). I also possess important parts of the ground where the gas has been found. This will give me a larger amount of money paid by the state, money that the same socialist rulers in this socalled democracy are going to capture under the name of income tax and property tax. Having worked hard for my properties and my people, I am not going to let this happen. Therefore I need a contact abroad that could be the receiver of this payment before one hand (the oil division of the government) knows what the other hand (the tax government) is doing. The last documents I have received, suggests that I will be paid approximately 55 million euros for the property, of course far below the market price, but it`s not possible for me to sell to private investors and oil firms. Almost everything is run by the state her. Therefore, I also intend to leave the country, and the dear possessions that my family has owned for generations, working hard to make it profitable, and always having treated our people in fair ways. If I stay here, I fear the future.
I ask you honestly, is it possible for you to let me use one of your bank accounts to receive the payment? You will then get a good share of the money, and the size of this amount can be object of discussion. As honorable men, we trust each other in this business. I will suggest a further way of dealing with this business later. It is however urgent, as the new owners - the state - is going to start their work on my properties this May.
Dear Mr./Mrs., I will await for your answer with great expectations.
Yours,
Georg A. Anker-Hansen
-
Det nytter!
SISTE NYTT: Vår innsender "Georg" melder nå at han faktisk (ja, disse er ekte!) begynner å få respons etter å ha sendt ut et antall svarmail: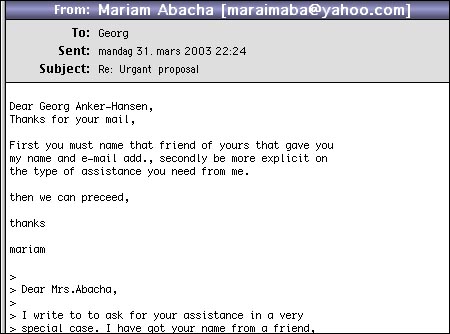 Bakgrunnsinfo
Mer om bløffe-brev fra Nigeria
Lenker