Information pages to international broadcasters
HM King Harald V, Norway - father of the groom
Publisert 23.08.2001 16:29 - Oppdatert 23.08.2001 16:41
He was the first prince born in Norway for 567 years and became Crown Prince on 21 September 1957 when his father acceded to the throne.
Born 21 February 1937 in his parents' home, the country estate of Skaugum near Oslo. Youngest child and only son of Crown Prince Olav, later King Olav V (1903-1991), and Crown Princess Märtha (1901-1954, b. Princess of Sweden).

He has two sisters, Princess Ragnhild Mrs Lorentzen (b. 9 June 1930) and Princess Astrid Mrs Ferner (b. 12 February 1932).

After his father's death he was proclaimed the new King of Norway on 17 January 1991. Like his father and grandfather, he adopted the motto: "All for Norway" (Alt for Norge).


World War II
When the Germans invaded Norway on 9 April 1940, the Royal family was forced to flee in haste.

While his father and his grandfather, King Haakon, fled with the Government to London and set up a government-in-exile, the Prince, his mother and sisters went to the USA and lived outside Washington D.C.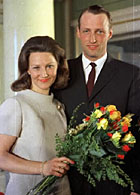 Royal engagement: Miss Sonja Haraldsen and Crown Prince Harald in 1968.

On 13 May 1945 he returned to Norway, where the rest of his family and King Haakon joined him on 7 June.


Family
Married on 29 August 1968 to Sonja Haraldsen (Queen Sonja). Because of her non-royal status, King Olav had to consult with the Parliament (Stortinget) and the Government before giving his consent.

They have two children: Princess Märtha Louise, b. 22 September 1971, and Prince Haakon Magnus (Crown Prince Haakon after 1991), b. 20 July 1973.


Skaugum mansion

At present, the royal couple resides at King Harald's childhood home, Skaugum, in Asker, just outside Oslo. However, they intend to move to the newly restored Royal Palace at a later date. Their children both have their own apartments.


Education
After the liberation, Prince Harald attended Smestad Primary School and continued his studies at Oslo Kathedralskole. He took his upper secondary diploma in science in 1955, and matriculated at the University of Oslo that same autumn.


King Harald portrayed by the Norwegian artist Håkon Gullvåg

Immediately afterwards, he began his military education. First he attended the Cavalry Officers' Candidate School at Trandum, and then the Military Academy, from which he graduated in 1959.

Under Norway's constitution, the king is the commander-in-chief of the kingdom's land and naval forces and King Harald holds the rank of general in the Army and the Air Force and an admiral in the Navy.

After completing his compulsory military service as an officer, he went to Oxford. He studied political science, history and economics at Balliol College, the same college his father had attended more than 30 years earlier.


Official duties as Crown Prince
Since he became Crown Prince in 1957 he attended Council of State and acted as Regent in the King´s absence. He made frequent official visits abroad (including the USA in 1960) to promote Norwegian interests and was present on ceremonial occasions.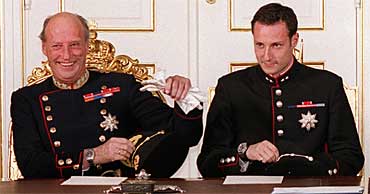 King Harald and Crown Prince Haakon in the Council of State.
Official duties as King
After the Consecration and Blessing of the new King and Queen, which was held on 23 June 1991 in Nidaros cathedral in Trondheim, Royal Couple went on a ten-day post-consecration tour in the southern half of Norway. The following year, they completed the tour with a 22-day trip to the country's four northern counties.


King Harald greet children in Vestefrikk Kindergarten in Sauda.

As Head of State the King has weekly meetings with the Council of State at the palace and official audiences for new ambassadors. In his role as constitutional monarch he has many other functions such as opening trade fairs, visiting disaster areas, hospitals, organisations and factories and he keeps in touch with most aspects of national life.


Leisure interests
The King enjoys outdoor life, especially fishing, shooting, hunting, skiing and sailing. He is an enthusiastic supporter of Norwegian sports both as patron and spectator.

He was honorary chairman of the Lillehammer Olympic Organizing Committee and member of its general assembly. He is also a keen yachtsman and has several achievements in national and international sailing competitions.


Relations
The Norwegian royal family has close ties to the Danish, Swedish and British royal families. King Haakon VII was the second son of King Frederik VIII of Denmark.

His wife, Queen Maud, mother of King Olav, was the daughter of King Edward VII and Queen Alexandra of England. King Olav's wife, Märtha, was the second daughter of Swedish Prince Carl and Princess Ingeborg.

King Harald is also first cousin to King Albert II of Belgium, and Grand Duke Henri of Luxembourg is the son of his first cousin.