Information pages to international broadcasters
HRH Princess Märtha Louise, Norway
Publisert 23.08.2001 14:34
Born 22 September 1971 at Rikshospitalet in Oslo. First child of King Harald and Queen Sonja. Her brother, Prince Haakon Magnus (Crown Prince Haakon) was born on 20 July 1973.

Princess Märtha Louise and her brother Haakon in 1973.

Although the Constitution now has been amended so that women also have succession rights to the throne, the male line has precedence for those born before 1990.

In practice, this means that she would only accede to the throne if her brother were to die before having any children or grandchildren.

Crown Prince Haakon and Princess Märtha Louise grew up at their father's childhood home, the Skaugum estate in Asker. Today they both have their own apartments.


Education
Like her brother she went to a municipal nursery school and local primary and secondary schools. In 1990, she received her upper secondary diploma in languages at Kristelig Gymnasium in Oslo.

In the same year, she moved to England to perfect her riding skills at the Waterstock Training Centre and to study English at Oxford University. Later she moved on to another riding school, Arena UK in Lincolnshire.

In the autumn of 1992 she continued with advanced level studies at the Bjørknes Private School in Oslo. She later completed physiotherapy studies at the Oslo College at Bislet.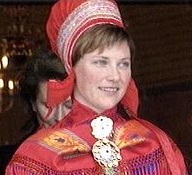 Princess Märtha Louise in Sami costume on a visit to Finnmark county in 2000.

Upon graduation, she served as an intern in Maastricht, Netherlands. This qualified her for full certification as a physical therapist, which she received in December 1997. In the autumn of 2000 Princess Märtha Louise moved back to Norway


Official duties
Since she came 18, the Princess has performed a number of representational duties. In April 1992, as goodwill ambassador for the United Nations High Commissioner for Refugees, she visited a number of refugee camps along the border areas between Liberia and the Ivory Coast.



Princess Märtha Louise opens the 2001 Bjørnson festival in Molde.

She is also very interested in the work of the humanitarian organizations and has been involved in fundraising campaigns. She is patron of SOS Children's Villages and in this connection she carried out an extensive tour of Southeast Asia in December 1999.

The Princess has studied sign language to communicate better with people suffering from impaired hearing. She is also engaged in the fate of torture victims and in their rehabilitation.

In the spring of 2001 she carried out a tour of Bolivia and Peru coordinated by Norwegian Church Aid, The Norwegian Mission Alliance and the Strømme Foundation.


Leisure interests
Riding is the Princess' favourite sport. With her talents in show jumping she has done well in national and international competitions. From the autumn of 2000, however, show jumping has no longer been given high priority.


She also has many cultural interests, in particular music and literature. She has sung in two choirs, has played the flute in a quartet and for many years participated in a dance group at the Norwegian folk museum.

Traditional Norwegian folk tales are very close to her heart. On her initiative, the Norwegian Broadcasting has produced a major series of folk tale readings where the Princess is the narrator. The series premiered last Christmas and became a great success.


Relations
The Norwegian Royal Family has close ties to the Danish, Swedish and British royal families. King Haakon VII was the second son of King Frederik VIII of Denmark.

His wife, Queen Maud, mother of King Olav, was the daughter of King Edward VII and Queen Alexandra of England. King Olav's wife, Märtha, was the second daughter of Swedish Prince Carl and Princess Ingeborg.