Information pages to international broadcasters
Oslo Cathedral
Publisert 28.05.2001 15:44
The Cathedral, where Crown Prince Haakon and Mette-Marit Tjessem Høiby will be married on August 25th, was built in 1697.
The cathedral has seen a lot of changes and repairs since then, but the baroque style of the church still prevails. The church was in great need of repairs and is being restored and repaired for the big event in August.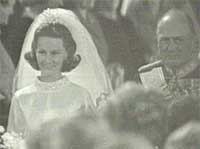 Walking up the aisle in 1968: Miss Sonja Haraldsen and King Olav V. Photo: NRK

The parents of the groom, then Crown Prince Harald and Miss Sonja Haraldsen, were also married in this church, in 1968, as were his grandparents, Crown Prince Olav and Princess Märtha.