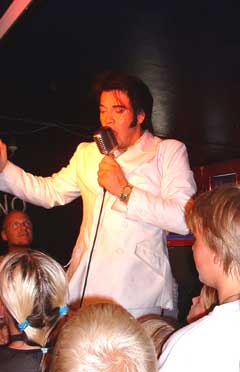 Last song; he gives everything! Foto: Gunnar Kleiberg, NRK Sørlandet.
See pictures from the Elvis Presley history!
Norway's most famous Elvis impersonator, Kjell Elvis is releasing a new CD. He even hopes to sell some of them. It wouldn't hurt then, to have your name in the Guinness Book of World Records. And now it`s done!
Proud
Kjell Elvis put together a four-hour, 100-song set which he performed over and over again for 26 hours, 4 minutes and 40 seconds.
- I`m very proud and i wish to thank all the people who helped me during the attempt, he says to nrk.no/musikk.
Elvis lives in Norway
Kjell Elvis made it big in 1997 when a TV documentary of his life as an Elvis impersonator was shown on norwegian television. This record-long concert marked his 15th year as an artist. In addition, Kjell hopes that this public relations stunt helps him to sell a few extra CDs.
"Signed copies of the CD can be pre-ordered already now at elvis.no." he adds eagerly.
Financial Debacle
Two years ago, in Stockholm, Sweden, Kjell Elvis was named Norden's (Norway – Sweden – Finland) best Elvis impersonator. In that same year Kjell tried in vain to establish an Elvis Festival in Kristiansand, Norway. This failed attempt cost him nearly one million Norwegian crowns, or about USD 135,000. And now Kjell will be the first to admit that he back again looking for more attention.
- Congratulation! You`re a world champion! Foto: Gunnar Kleiberg, NRK Sørlandet.
"That's absolutely correct." confirms Kjell
A British Elvis impersonator, Gary Jay, had the last record for a non-stop Elvis-impersonator performance. Jay managed to perform for 25 hours, 33 minutes and 30 seconds. Kjell Elvis intended to shatter Jay's record by over four hours. He didn`t make that, but maby he gave his Bitish rival something to think about..
These are the songs he sang
1. Treat me nice
2. One night with you
3. Devil in disquise
4. Fame and fortune
5. Kiss me quick
6. Love me
7. Wear my ring around your neck
8. Fool such as I
9. All shook up
10. I need your love tonight
11. Love me tender.
12. Don't be cruel
13. Blue shuede shoes
14. Don't
15. Blueberry hill
16. Have I told you lately that I love you
17. Can't help falling in love
18. In the ghetto
19. Its now or never
20. Jailhouse rock
21. His Latest flame
22. Return to sender
23. Good Luck charm
24. She's not you
25. Are you lone some tonight
26. Hound dog
27. Crying in the chapel
28. How great thou art
29. He touched me
30. Amazing grace
31. In the garden
32. We call on him
33. Let us pray
34. His hand in mine
35. Somebody bigger than you and I
36. Peace in the valley
37. Precious Lord ,take my hand
38. Lead me guide me
39. Help me
40. You'll never walk alone
41. Stand by me
42. In the garden
43. American Trilogy
44. You gave me a mountain
45. My way
46. Brigde over troubled water
47. Always on my mind
48. Susoicious minds
49. Don't cry daddy
50. You don't have to say you love me
51. There goes my everything
52. Burning Love
53. Let me be there
54. Just pretend
55. Walk a mile in my shoes
56. Funny how time slips away
57. For the good times
58. If you love me
59. Mama like the roses
60. Without Love
61. Welcome to my world
62. Steamroller Blues
63. Proud Mary
64. Keep right on hurting
65. Are you sincere?
66. Spanish eyes
67. My boy
68. The wonder of you
69. When my blue moon turn to gold again
70. Memphis Tennesse
71. Feel so bad
72. Donch think its time
73. Yesterday
74. Release me
75. Never been to spain
76. Let it be me
77. Lawdy miss clawdy consert
78. Moody Blue
79. Until its time for you to go
80. Guitar Man
81. Big Boss Man
82. I.ll remember you
83. Loving you
84. Blue Hawaii
85. Something
86. Its over
87. I m so lonesome I could cry
88. Fever
89. Early morning rain
90. Make the world go away
91. Blue Christmas
92. Shake a hand
93. Kuuipo
94. I cant stop loving you
95. Hurt
96. Loving you
97. Feel so bad
98. Rubbernecking
99. Power of my Love
100. If I can Dream
Lenker