'5.1' or multichannel sound, also known as digital surround sound, is an audio format where the sound is distributed in six discrete channels, each connected to a separate speaker.
Publisert 27.06.2006 12:36. Oppdatert 04.10.2006 14:37.
Usually there is a front stereo pair of speakers, a rear stereo pair of speakers, a front center speaker and a subwoofer or low frequency speaker.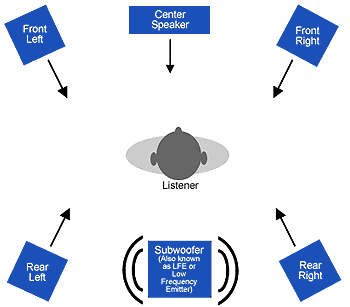 NRK 5.1 plays back a regularly updated 21 hour jukebox with seven programme units of different content – as jazz, rock, classical music, experimental sound art and (Norwegian) radio drama or documentaries. There will also be live performances and transmissions from concert halls or session studios.
Go to the
NRK web page
and choose 'NRK 5.1' in the 'NRK NETTRADIO' menu. If you don't have a 5.1 speaker system, the sound will play back in stereo (no guarantee for best performance).
What do you need to listen to NRK 5.1?
1. A computer with a multichannel sound card (analogue outputs). WindowsMediaPlayer 9 or newer (free software, updates automatically when choosing 'NRK 5.1' from the NRK web radio player). A connection to internet (broadband). The NRK 5.1 stream is 440 kbps.
2. A home cinema surround speaker system or a PC multichannel speaker system.
3. Cable connections between the analogue outputs of the multichannel sound card, and the analogue inputs of your home receiver / PC multichannel system.
What kind of cables you need, depends on the in- and outputs. Usually it would be 3 minijack(stereo)-to-phono(double) cables, or 3 stereo minijack-to-minijack cables, or 6 mono phono-to-phono cables.
Check the speakers by using this streaming test file:
STREAMING 5.1 TEST
Advanced users: If your home receiver decodes wma-streaming, you also can transmit the digital signal (f.ex. by a SPDIF-pass-through option on your sound card) directly into the receiver. For real experts there are even more possibilites, f.ex. to transcode the wma-stream to ac3 (DolbyDigital) and send it to your receiver. Find more information about this on
avsforum
.