International Broadcast Centre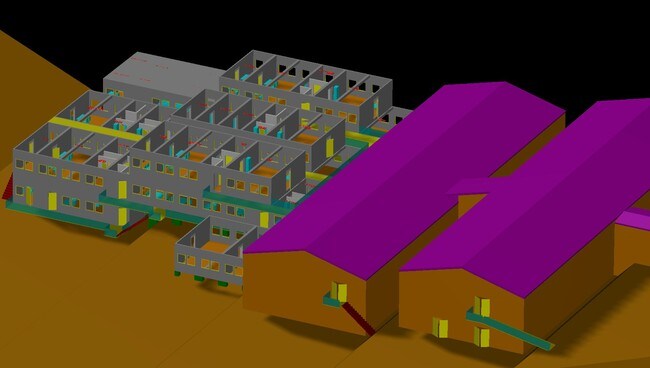 The main area for broadcasters is comprised of the International Broadcast Centre (IBC), located between the cross-country stadium and the HS 106 jumping hill. It is constructed from stacked cabins in sloped terrain together with the Main Press Centre. Compound for OB vans and technical vehicles is located in an adjoining area.
Publisert 13.04.2010 15:05. Oppdatert 18.01.2011 09:06.
The IBC/MPC facility will consist of three adjoining buildings. One building will hold the common media services area such as information desks, cafeteria and press conference rooms. The second will be designed for press accredited media and the third will accommodate the IBC.
The IBC will consist of two wings of stacked cabins on three storeys. The two wings will be connected by a 3 m wide hallway leading into the common services building. At the other end of the hallway, there will be exits to the RTV compound.
Host Broadcaster Areas
NRK Host Broadcaster will operate the International Broadcast Centre, which will contain facilities such as HB MCR, HB VTR/logging, HB offices, Frequency control, EBU MCR and EBU Booking.
A camera stand-up position in the upper level of IBC will be bookable for unilateral feed. All TV and Radio international signals will be available in the HB MCR. Working space and other services will be available for each broadcaster.
Operational period
Equipment delivery to the RHB areas in the IBC will be available from 14 February 2011.
IBC technical services/facilities will be operational from 18 February 09:00 to 7 March 09:00.
Master Control Room (MCR)
All multilateral and unilateral signals from the venues will be monitored and processed in the HB MCR, and then distributed to the EBU MCR. In addition to 4 international signals, clean feeds video and audio, ISO and beauty cameras, colour bars, black & burst, and time code will be provided. All the signals in the VandA package will be synchronized.
VTR / EVS / Logging room
For the purpose of logging and backup recording, all international signals will be recorded on EVS media servers. Copy of whole events or smaller clips can be streamed to VTRs or XDCam discs if booked by broadcasters.
Cable TV
Cable TV systems in the IBC and RTV compound will be available for monitoring all the international signals. RHBs may also book CATV modulator to get their own signals in the CATV package.

Downloads
Download PDF files of useful information:
Daylight in Holmenkollen
Local time/CET
= UTC/GMT +1

23 February 2011:
Sunrise 07:37
Sunset 17:28
Hours of sunlight: 09:51
6 March 2011:
Sunrise 07:05
Sunset 17:56
Hours of sunlight: 10:51

Source: http://sun.exnatura.org