Accreditation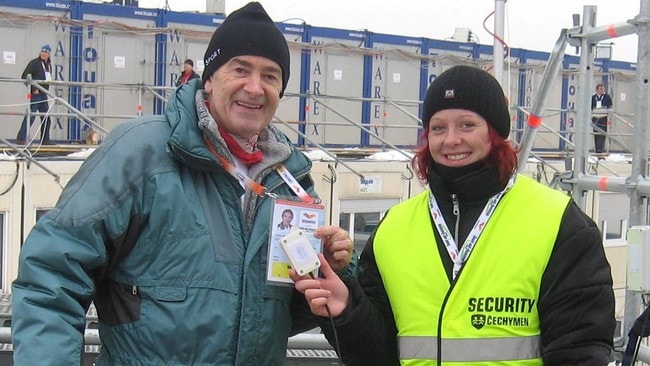 Odd Kaldefoss, NRK Host Broadcaster 2011 project manager, shows his accreditation card in Liberec 2009.
Foto: Helene Amlie/NRK
Accreditation is required for all personnel at the Holmenkollen venues in the operational period. The RTV accreditation process will be handled by the local organiser Ski-VM 2011 in consultation with NRK Host Broadcaster and FIS.
Publisert 12.04.2010 19:31. Oppdatert 28.09.2010 12:54.
The deadline for application of RTV accreditation is 15 September 2010.
By this date, broadcasters are kindly requested to notify the Local Organising Committee, Ski-VM2011, about the estimated number of people to be accredited to email rtvaccreditation@holmenkollen.com
Names and additional information are to be submitted no later than 3 December 2010. Details about the procedure will follow later.
All applications from radio and television companies will be handled by the LOC, Ski-VM 2011, in cooperation with NRK Host Broadcaster.
Finalization of the system, groups and categories as well as access will take place in agreement with the FIS and in accordance with FIS Rules for the Organization of the World Championships – rule 11.9.
FIS Season Accreditations are not valid for the WCS 2011.
A photo of each person is required to pre-make the accreditation cards.
Contact
For enquiries regarding accreditation, please contact:
Miriam Henriksen, TV Manager Ski-VM 2011
Mail: rtvaccreditation@holmenkollen.com
Phone: +47 979 53353
Location of accreditation centres
The Main Accreditation Centre will be situated in the service centre in Holmenkollen Park Hotel, within walking distance to the Holmenkollen venue.
There will also be Sub Accreditation Offices in the Main Media Hotel Clarion Royal Christiania in the centre of Oslo.
Opening hours for the accreditation centres will be announced in media information prior to the WSC.
Additional special identification
All TV-cameras, microphones and other wireless equipment must have an accreditation sticker. These are produced by the FIS, and handed out by the Host Broadcaster Booking Office in the IBC in Holmenkollen.
Wireless equipment must additionally be approved of by the NPT (the Norwegian Post and Telecommunications Authority), see www.npt.no
In some areas, an additional accreditation card and/or a bib, armband might be needed for television staff.
Downloads
Download PDF files of useful information:
Daylight in Holmenkollen
Local time/CET
= UTC/GMT +1

23 February 2011:
Sunrise 07:37
Sunset 17:28
Hours of sunlight: 09:51
6 March 2011:
Sunrise 07:05
Sunset 17:56
Hours of sunlight: 10:51

Source: http://sun.exnatura.org