Holmenkollen Ski Jump
The new Holmenkollen HS 134 hill was officially opened 3 March and will be used for the large hill competitions in men's Ski Jumping and Nordic Combined.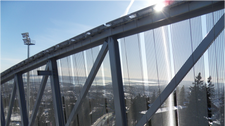 Holmenkollen will have a unique permanent windscreen solution, which will protect the athletes from up to 50 per cent of the winds. The windscreen is about 10 meters high and is woven from high quality steel
Two lifts will bring the athletes up to the start house. One chair lift from the bottom of the Ski Jump and then a cabin lift following the inrun up to the start house.
Maps of multilateral camera plans can be downloaded here:
http://www.nrk.no/host2011/1.7276946
Course and arena maps as well as track profiles can be downloaded from Ski-VM web page
http://oslo2011.no/en/arena_holmenkollen/course_and_arena_maps/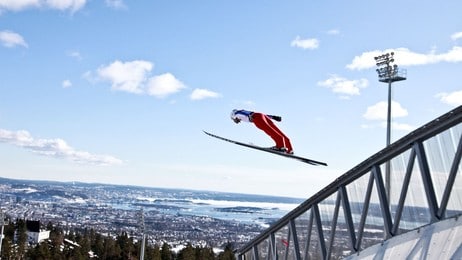 30.000 Spectators
The spectator stands consist of seats for 20 000 spectators and 10 000 more will be able to fit on terrain based stands.

A new judges' tower and royal grand stand are situated on the sides of the Ski jump.
The inrun and related elements such as the judges' tower and royal grand stand were built as an integrated construction as proposed by JDS Architects in the design contest. This means that the windscreen solution will follow the entire inrun from the top down to the royal grand stand and judges' tower.

Construction work on the new Holmenkollen Ski Jump began early December 2008 after the old inrun was demolished that same autumn.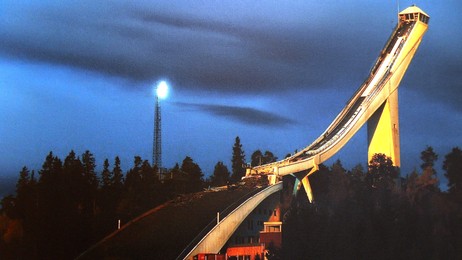 Old Holmenkollen just before demolition, autumn 2008.
Foto: Odd Kaldefoss/NRK
Downloads
Download PDF files of useful information:
Daylight in Holmenkollen
Local time/CET
= UTC/GMT +1

23 February 2011:
Sunrise 07:37
Sunset 17:28
Hours of sunlight: 09:51
6 March 2011:
Sunrise 07:05
Sunset 17:56
Hours of sunlight: 10:51

Source: http://sun.exnatura.org